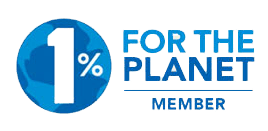 Lumen is now a member of 1% for The Planet!


–
As a member of 1% For The Planet, Lumen will donate 1% of sales to environmental causes. Yes, that's 1% of sales, not 1% of profit. That means every year Lumen will write a big check to help protect our world.
Lumen co-founder Will Henry has had a long-standing commitment to protecting the environment. In 2001 he founded Save The Waves Coalition, a non-profit that protects coastal ecosystems around the world. That organization was initially funded with a $5,000 personal check written by Patagonia founder Yvon Chouinard, who was a guiding force for the fledgling coalition throughout its early years.
"Yvon has been my number one inspiration in life," says Will. "He is the most influential environmentalist of our time. Not only is he a tremendously successful businessman, he is living proof what businesses can gain from being more proactive with the natural world."
In 2019, Lumen announced its membership in 1% For The Planet. "Business owners have a responsibility," says Will, "to both reduce their impact on the planet, as well as give something back to the organizations who work hard to protect it."
---
About 1% for the Planet: A global organization that connects dollars and doers to accelerate smart environmental giving. 1% for the Planet recognizes that the current level of environmental giving – only 3% of total philanthropy – is not enough to solve the most pressing issues facing our planet. Started in 2002 by Yvon Chouinard, founder of Patagonia, and Craig Mathews, founder of Blue Ribbon Flies, members have given more than $175 million to environmental nonprofits to date. Today, 1% for the Planet is a network of more than 1,400 member businesses, a new and expanding core with hundreds of individual members, and thousands of nonprofit partners in more than 40 countries. (Source: Linkedin)