Sierra Madre Vineyard
Our primary vineyard site in the Santa Maria Valley, Sierra Madre remains one of the valley's closest plantings to the cool waters of the Pacific Ocean. With sandy soils and gentle slopes, it is planted primarily to Pinot Noir, with smaller amounts of Chardonnay, Pinot Gris and Pinot Blanc. Planted in 1971 and owned for a period of time by the Mondavi family, it remains one of the oldest vineyard sites in the region. Its fruit is purchased by many well-known wineries such as Au Bon Climat, Byron, Hitching Post, Ken Brown, Kenneth Volk, Paul Lato, and Wild Horse.
Sierra Madre has been Lane's favorite vineyard since the 1980's, when she began making single vineyard Pinot Noir under the Hitching Post label. Lane's intimate knowledge of the best blocks and clones has been a godsend; no one knows the intricacies of this fickle vineyard better than she. We source Pinot Noir clones 667 and 777 from their best blocks, as well as Chardonnay and Pinot Gris from their steep, north-facing hillsides. The vineyard is SIP-certified sustainable.
Shop Lumen Wines from Sierra Madre Vineyard:
⇒ 2017 Chardonnay
⇒ 2017 Pinot Gris
⇒ 2015 Pinot Noir – Santa Barbara County
⇒ 2016 Pinot Noir – Sierra Madre Vineyard
Garey Vineyard
Garey Vineyard lies to the east of Sierra Madre by about four miles near the town of Garey, and is atop the same ridge line of ancient sand dunes. The soil consists of sand and sandy loam, and the climate is very cool, making it a premium location for Pinot Noir. During the growing season, mornings are generally foggy and cold, followed by breezy afternoons that keep temperatures down and serve to air-dry the fruit.
We source three Pinot Noir clones from Garey: 667, 777 and 115. The wines tend to be very feminine in style, with soft tannins and delicate fruit flavors. This vineyard is certain to become a famous as a vineyard-designate, and we hope to help it get there. Farming practices are also SIP-certified sustainable.
Shop Lumen Wines from Garey Vineyard:
⇒ 2016 Pinot Noir – Garey Vineyard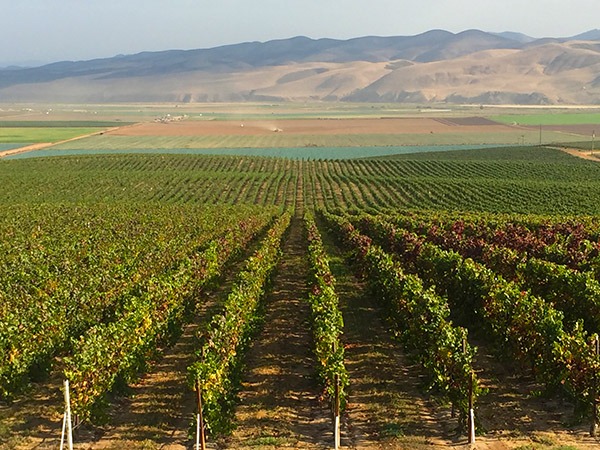 Presqu'ile Vineyard
Presqu'ile Vineyard is located just two miles south of Sierra Madre near the town of Orcutt, on the western side of the Santa Maria Valley. Planted in 2009 by the Murphy family, it is quickly becoming known for its distinctive Pinot Noirs. With deep sandy soils and rolling hills, in combination with the region's typically cool climate, the vineyard has become a fast favorite of many of the area's top winemakers, including Ernst Storm and Drake Whitcraft.
We currently source only Pinot Noir clone 667 from this prestigious site. The wines are more masculine in style, with deep color and fruit flavors that are accented by spice and savory notes. Presqu'ile has been SIP-certified sustainable since its inception.
Shop Lumen Wines from Presqu'ile Vineyard:
⇒ 2016 Pinot Noir – Presqu'ile Vineyard
Martian Ranch
Martian Ranch is located in Alisos Canyon, close to the town of Los Alamos (and hence to Lumen's tasting room and Pico Restaurant in the Los Alamos General Store). The Los Alamos Valley boasts slightly warmer days and cooler nights than the nearby Santa Maria Valley, and for this reason has been planted predominantly to Rhone varietals.
This small, 20-acre site is the source of our Grenache fruit. This hillside vineyard is biodynamically farmed, and yields are carefully controlled to give the wines added depth, concentration, and character.
Shop Lumen Wines from Martian Vineyard:
⇒ 2016 Grenache – Santa Barbara County